ML 60 SWING MULTI System with Attachment Mower -Slasher
ML 60 SWING - SELF PROPELLED INTERCHANGEABLE SLASHER/MOWERS
The ML 60 Swing Multi System is a patented swinging engine mount to handle working on steep slopes. The self-propelled machine is based on the ML Multi-system of inter-changeable cutting heads enabling it to become a DCS (Brushcutter), TRT (Mower/Slasher), TRL (Finishing Mower) or TRS (Saw head).
Italian designed and made by Eco Tech Italia, the Eco Brushcutter range is ideal for the contractor, rural property owner and homes backing onto bush and reserve areas.
Honda GCV 190 Engine 6.0 HP (190cc)
Grass deflector
APPLICATIONS
• The Patented Swing System enables work on a
45-degree slope
• Long thick heavy grass
• Hard to get areas
• Lawns
• Timber with optional TRS disc cutter
SPECIFICATIONS ML 60 SWING
• Steel traction wheels (Adjustable Track width)
• Speed Selection
• Self Propelled
• 600mm maximum cutting width (DCS)
• Safety brake
• Adjustable cutting height
• Quick change cord (10 seconds)
• Fold down handle bars
• Spinning Skid Plate (DCS Head)
• Strong Steel Grass Deflector
OPTIONS FOR TRIMMER ML 60
TRT Brush Cutter Forestry with Floating Blades (490MM Cut) – Code(201)
DCS Double Cutting Head – Code(207)
TRL Side Discharge Finishing Mower – Code(203)
TRS Disk Saw Blade Attachment – Code(209)
*Please note the PDF is a quite large file, please be patient as it loads.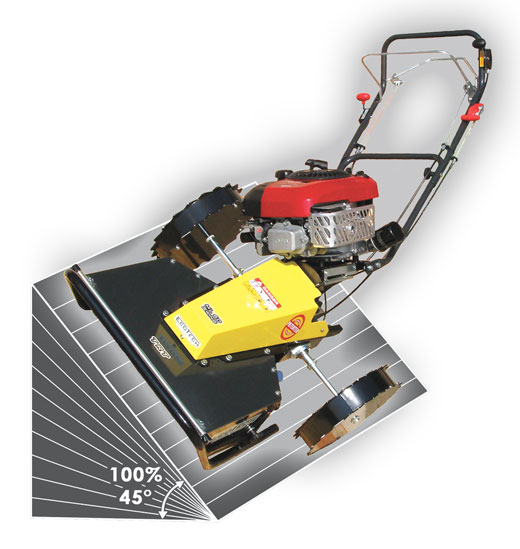 Please note that Australian specifications may vary to those shown on the manufacturer's brochure and website.
For all sales enquiries please call Dana Conroy on: 0414668954. You can also send us an email via our 'Contact Us' page.
remote control mowers, best remote control mowers, orchard mowers, tilt mowers, sports field line markers, remote linemarkers, walk behind mowers, ride on mowers, remote control mowers, tiny mobile robots, Intelligent one line markers, The TinyLineMarker Pro, The TinyLineMarker Sport, G30 Hybrid Remote control Mower, RoboFlail Vario, RoboFlail One, RoboFLail One Diesel, AS motors 1040 YAK 4WD, AS motors, AS 63 2T ES Slasher Mower, AS 65 Slasher Mower, AS 901 Flail Mower, atm sherpa rc ride on moweres, AS 63 2T ES Slasher Mower, ATM Allmäher® AS940 Sherpa, ATM Allmäher® AS920 Sherpa 2WD, ATM Allmäher® AS940 Sherpa RC, remote control mowers, Ecotech Mowers, DCS 60 Self-Propelled Brushcutter Mower, DCS 60 Wheeled Brushcutter Mower, Ecotech FV60 mulching mower, ecotech HRT 110 Swing Slope Mower, ecotech ML 60 MULTI System with Attachments Mower Slasher, ecotech ML 60 SWING MULTI System with Attachment Mower Slasher, ecotech TRT 110 Self-Propelled Mower Slasher, ecotech TRT 135 Swing Self-Propelled Mower slasher, ecotech TRT60 Self-Propelled Mower Slasher, perfect brush sweepers, Perfect model SPA brush sweepers, Perfect model SPDF double brush sweepers, Perfect model SPF brush sweepers, perfect packaging, perfect pruning choppers, Flail pruning choppers – perfect Series BG2 en BK2, perfect Universal flail pruning choppers Series BGM and BKM, perfect Series NX-460 flail chopper, perfect Heavy duty flail pruning choppers Series KG en KK, perfect rotary mowers, perfect Series DR Rotary Mowers