Tall grass with brush growth, steep slopes, large areas in unknown territory – these mowers can handle it. AS Flail Mowers avoid foreign objects in the ground, while chopping and distributing the cut grass and scrub perfectly. This results in high output – in a "safe" manner.
The AS 901 Flail Mower offers a full cutting width of 90cms, more power, more space and more mowed area.
The 2-cylinder engine from Briggs & Stratton makes this shredder unswervingly pass through high meadow grass, scrub and bushes.
Precise, safe and convenient maneuvering enable on the Chassis-/Antriebsbasis the meadow mower AS 84 Mulchmeister the independent wheel steering and braking clutch, the finely graded 5-speed manual transmission with differential lock as well as the agricultural profiled tires for traction and braking on slopes and in difficult terrain .
For all sales enquiries please call Dana Conroy on: 0414668954. You can also send us an email via our 'Contact Us' page.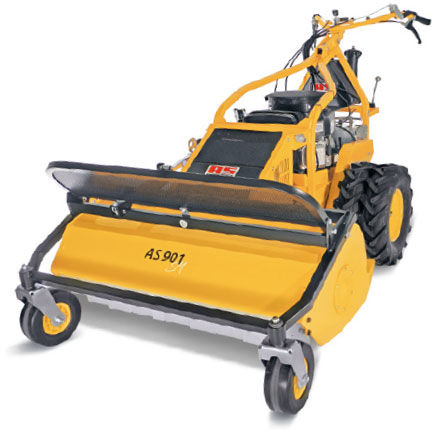 remote control mowers, best remote control mowers, orchard mowers, tilt mowers, sports field line markers, remote linemarkers, walk behind mowers, ride on mowers, remote control mowers, tiny mobile robots, Intelligent one line markers, The TinyLineMarker Pro, The TinyLineMarker Sport, G30 Hybrid Remote control Mower, RoboFlail Vario, RoboFlail One, RoboFLail One Diesel, AS motors 1040 YAK 4WD, AS motors, AS 63 2T ES Slasher Mower, AS 65 Slasher Mower, AS 901 Flail Mower, atm sherpa rc ride on moweres, AS 63 2T ES Slasher Mower, ATM Allmäher® AS940 Sherpa, ATM Allmäher® AS920 Sherpa 2WD, ATM Allmäher® AS940 Sherpa RC, remote control mowers, Ecotech Mowers, DCS 60 Self-Propelled Brushcutter Mower, DCS 60 Wheeled Brushcutter Mower, Ecotech FV60 mulching mower, ecotech HRT 110 Swing Slope Mower, ecotech ML 60 MULTI System with Attachments Mower Slasher, ecotech ML 60 SWING MULTI System with Attachment Mower Slasher, ecotech TRT 110 Self-Propelled Mower Slasher, ecotech TRT 135 Swing Self-Propelled Mower slasher, ecotech TRT60 Self-Propelled Mower Slasher, perfect brush sweepers, Perfect model SPA brush sweepers, Perfect model SPDF double brush sweepers, Perfect model SPF brush sweepers, perfect packaging, perfect pruning choppers, Flail pruning choppers – perfect Series BG2 en BK2, perfect Universal flail pruning choppers Series BGM and BKM, perfect Series NX-460 flail chopper, perfect Heavy duty flail pruning choppers Series KG en KK, perfect rotary mowers, perfect Series DR Rotary Mowers