Strong, robust and at home on difficult terrain – AS 1040 Yak 4WD
AS-Motor's new robust ride-on flail mower is engineered for uneven, rough and steep terrain. The AS 1040 Yak 4WD shreds grass up to 1.5 metres tall as well as brush and young saplings. With high work rates and even more safety, the flail mower is an ideal tool for professional users such as commercial landscapers and municipal operators.
A powerhouse with direct flail shaft drive
The AS 1040 Yak 4WD is powered by a Briggs & Stratton 2 cylinder Vanguard V-Twin engine with up to 23 hp (17.2 kW) and 627 ccm displacement. The engine is horizontally placed and thus transfers the force directly to the flail shaft through a V-belt, while a cyclone air filter delivers fresh air supply. The engine's oil and fuel pump guarantees performance on slopes.
Variable 4WD with cruise control function
Hydrostatic transmission allows the operator to conveniently control the AS 1040 Yak 4WD's speed up to 6.8 km/h forward, and 6.3 km/h in reverse. Permanent 4WD delivers propulsion no matter the terrain. The rear axle differential can be blocked at any time via a foot pedal; a drive lever with integrated parking brake and cruise control ensures easy operation.
Surfing flail mower unit with Y-flails
The AS 1040 Yak 4WD achieves work rates reaching 6,800 m²/h thanks to its 1-metre working width and 56 Y-flails that shred grass and deposit the mulch uniformly across the work area. Cutting height can be adjusted to 7 levels between 30-110 mm. A surfing mower deck and Y-flails that give way protect the engine, and the operator, from damage in the event of unseen objects or uneven terrain. The mower deck's asymmetric shape allows efficient mowing close to fences and around objects.
Comfort for long workdays
An ergonomic sitting position provides adequate legroom for users up to 200 cm (6'6″) tall, while the bucket seat and innovative suspension system with end position damping can be adapted to every operator.
Flail over rotary?
Stable and robust asymmetrically arranged surfing flail mower unit. The mower deck and the flails themselves give way to uneven ground and foreign objects.
Uniform grass placement
Please note that Australian specifications may vary to those shown on the manufacturer's brochure and website.
For all sales enquiries please call Dana Conroy on: 0414668954. You can also send us an email via our 'Contact Us' page.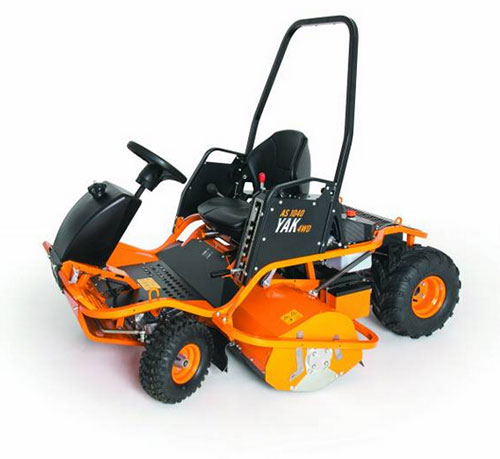 Perfect mowing results over the entire working width. Made for professionals
Flail rotor drive and diminished need for path overlap guarantee high work rates.
Robust and durable
Stable, square-tube frame with weight-optimized design, low-maintenance hydrostatic transmission and optimal cooling.

Extremely suitable for slopes
Low centre of gravity and 4WD guarantee safety on slopes.

Stable lateral position
Balanced weight distribution – 45% on the front axle and 55% on the rear – ensures outstanding traction and safe work on every terrain.

Safety first
Maximum operator safety thanks to stable folding rollover bar, integrated safety switch in the driver seat, and emergency stop foot pedal. Lashing points on the device enable safer transport.
remote control mowers, best remote control mowers, orchard mowers, tilt mowers, sports field line markers, remote linemarkers, walk behind mowers, ride on mowers, remote control mowers, tiny mobile robots, Intelligent one line markers, The TinyLineMarker Pro, The TinyLineMarker Sport, G30 Hybrid Remote control Mower, RoboFlail Vario, RoboFlail One, RoboFLail One Diesel, AS motors 1040 YAK 4WD, AS motors, AS 63 2T ES Slasher Mower, AS 65 Slasher Mower, AS 901 Flail Mower, atm sherpa rc ride on moweres, AS 63 2T ES Slasher Mower, ATM Allmäher® AS940 Sherpa, ATM Allmäher® AS920 Sherpa 2WD, ATM Allmäher® AS940 Sherpa RC, remote control mowers, Ecotech Mowers, DCS 60 Self-Propelled Brushcutter Mower, DCS 60 Wheeled Brushcutter Mower, Ecotech FV60 mulching mower, ecotech HRT 110 Swing Slope Mower, ecotech ML 60 MULTI System with Attachments Mower Slasher, ecotech ML 60 SWING MULTI System with Attachment Mower Slasher, ecotech TRT 110 Self-Propelled Mower Slasher, ecotech TRT 135 Swing Self-Propelled Mower slasher, ecotech TRT60 Self-Propelled Mower Slasher, perfect brush sweepers, Perfect model SPA brush sweepers, Perfect model SPDF double brush sweepers, Perfect model SPF brush sweepers, perfect packaging, perfect pruning choppers, Flail pruning choppers – perfect Series BG2 en BK2, perfect Universal flail pruning choppers Series BGM and BKM, perfect Series NX-460 flail chopper, perfect Heavy duty flail pruning choppers Series KG en KK, perfect rotary mowers, perfect Series DR Rotary Mowers