ATM Allmäher® AS920 Sherpa 2WD
Due to the small turning circle of only 60 cm, the AS 920 2WD offers a very agile driving experience.
The rear drive with selectable differential lock ensures excellent off-road capability.
The AS high-grass cutter with interchangeable, mobile-mounted blades mows and mounds thick, tall grass with ease.
The main blade cuts and the crusher crushes the cut material. For protection from damage the surfing mowing deck deviates upwards in the case of terrain.
The infinitely adjustable driver's seat with innovative suspension system as well as the ergonomic seat position allow comfort in working over a longer period of time.
Technical Data
Device type: AS 920 Sherpa 2WD
Device category: Ride-on Mower
Grass discharge: Rear discharge
Cutting width (working width) (cm): 90cm
Cutting height (mm): 50 – 105
Height adjustment: Central in 5 steps
Work rate max. (m²/h): 6500 m²/h – 9450 m²/h
Grass height (cm): ca. 150
Slope incline (°): 18
Slope incline (%): 32
Engine design: Two cylinder four stroke engine
Engine type: Briggs & Stratton 4-stroke-Motor, 2 cylinder motor professional Series 8, 724 ccm
Displacement (cm³): 724cm³
Rated Power (kW (hp)): 16,5 kW (22,4 PS) bei 3300 min-1
Engine speed (rpm): 3300rpm
Starting device: Electric Start
Traction drive: Hydrostatic two-wheel drive with differential lock
Weight (kg): 280kg
Drive speed, forward (km/h): 0.0 – 10.5
Drive speed, reverse (km/h): 0.0 – 8.2
Operating dimensions (cm L/W/H): 191/98/152
Transport dimensions (cm L/W/H): 210/107/112
Turning radius (m): ca. 0.6
Cutting device, type: Cross-blades with Turning blades and mulching blades
Fill quantity – fuel tank (liters): 15 litres
Hand-arm vibration AH, W (m/s²): 2.0
Front axle: Pendulum-bearing portal axle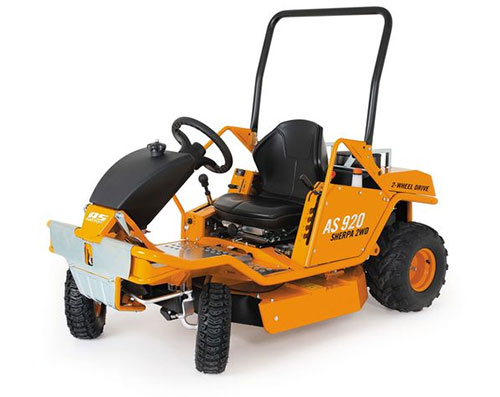 Please note that Australian specifications may vary to those shown on the manufacturer's brochure and website.
For all sales enquiries please call Dana Conroy on: 0414668954. You can also send us an email via our 'Contact Us' page.