Robotech Enterprises PTY LTD was formed by Dana Conroy with a purpose to enter into the market of remote controlled construction agricultural machinery, automated sports field and lawn mowing. Dana brings 25 years experience in the sales, service and
maintenance of hydraulic systems, earthmoving industry and local government civil maintenance sections.
Robotech Enterprises can also custom design a remote control system for your existing applications to suit your particular needs. Contact us for further information.
Dana brings 25 years experience in the sales ,service and maintenance of hydraulic systems, earthmoving industry and local government civil maintenance sections
Dana Conroy CEO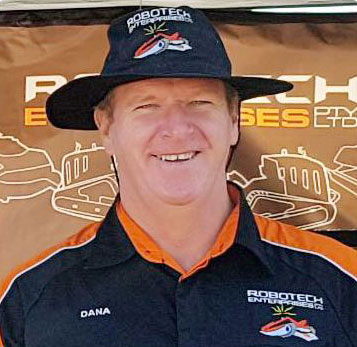 remote control mowers, best remote control mowers, orchard mowers, tilt mowers, sports field line markers, remote linemarkers, walk behind mowers, ride on mowers, remote control mowers, tiny mobile robots, Intelligent one line markers, The TinyLineMarker Pro, The TinyLineMarker Sport, G30 Hybrid Remote control Mower, RoboFlail Vario, RoboFlail One, RoboFLail One Diesel, AS motors 1040 YAK 4WD, AS motors, AS 63 2T ES Slasher Mower, AS 65 Slasher Mower, AS 901 Flail Mower, atm sherpa rc ride on moweres, AS 63 2T ES Slasher Mower, ATM Allmäher® AS940 Sherpa, ATM Allmäher® AS920 Sherpa 2WD, ATM Allmäher® AS940 Sherpa RC, remote control mowers, Ecotech Mowers, DCS 60 Self-Propelled Brushcutter Mower, DCS 60 Wheeled Brushcutter Mower, Ecotech FV60 mulching mower, ecotech HRT 110 Swing Slope Mower, ecotech ML 60 MULTI System with Attachments Mower Slasher, ecotech ML 60 SWING MULTI System with Attachment Mower Slasher, ecotech TRT 110 Self-Propelled Mower Slasher, ecotech TRT 135 Swing Self-Propelled Mower slasher, ecotech TRT60 Self-Propelled Mower Slasher, perfect brush sweepers, Perfect model SPA brush sweepers, Perfect model SPDF double brush sweepers, Perfect model SPF brush sweepers, perfect packaging, perfect pruning choppers, Flail pruning choppers – perfect Series BG2 en BK2, perfect Universal flail pruning choppers Series BGM and BKM, perfect Series NX-460 flail chopper, perfect Heavy duty flail pruning choppers Series KG en KK, perfect rotary mowers, perfect Series DR Rotary Mowers