ATM Allmäher® AS940 Sherpa
You want to mow where even walking is difficult? The incline is too steep for you? Thick grass up to 1.5m in height and with scrub interspersed? All other mowers give up? Then there is only one solution: our AS 940 Sherpa.
Four-wheel drive, differential lock, cross blade cutting system, sturdy all-roand, self-supporting tubular frame and a whopping 22 hp. Our engineers have packed the best of over 50 years of experience in this machine. 100% "Made in Germany".
This makes us proud and our customers happy. For even more demanding missions, there is now the Sherpa also available in XL size – with larger wheels and thus with higher ground clearance.
Whether for professional or private use – the Allmäher® AS 940 Sherpa redefines safety on the slopes for tractor mowers. Its permanent four-wheel drive with differential lock ensures faithful directional stability when travelling along the slop and optimal braking downhill. Its hydrostatic drive makes the power and traction of the 27 HP 724cc V twin engine powerfully felt.
The perfectly tuned cooling of the four-wheel drive transmission ensures maximum performance even under long-term professional operation. Its low equipment weight, the low point of gravity and not least, its stable and nevertheless foldable roll bar ensure the highest level of safety particularly when working on very hilly terrain.
Technical Data
Cutting width: 90 cm
Cutting height adjustment: central 50-105 mm x 5
Weight: 290 kg
Grass ejection: rear discharge, lawnmower, mulching mower
Miscellaneous: permanent four-wheel drive with differential lock, cross blade system, bucket seat with spring seat package, oil and fuel pump, oil pressure switch, electronic start, blade cover, pendulum bearing, foldable roll bar.
Motor:
Engine: two-cylinder OHV, four-stroke, 724 ccm
Capacity: 27 Horsepower V twin
Wheel drive: rear wheel
Speed: forwards 0 – 6.2 km/h, reverse 0 – 5.8 km/h
Tank capacity: 15 litres
Blade System:
AS Brush cutter mowing deck with interchangeable, flexibly mounted blades cut and shred at the same time.
All-Wheel Drive:
Permanent all-wheel drive, better traction on up and downhill, more secure brake impact.
Comfort Seat:
Infinitely variable adjustable shell seat with the innovative suspension system to ensure maximum legroom.
Surfing Cutting Deck:
The blade cover allows vertically evasive movements in uneven terrain, to protect the mower deck and provide greater ground clearance
Housing:
3 mm galvanized plastic-coated steel
Dimensions (W/L/H in CM)
Operating dimensions: 98/191/100 (152)

Transporting dimensions: 107/210/112
Accessories: Standard:
Rear-wheel Brakes
Mulching Function
Saves time since there is no need for raking up mowed-up grass and additionally creates compost for the soil.
Accessories: Optional
Transport Trailer
The ideal addition for ride-ons AS 800 and AS 910/915. Loading area: : L = 1071 mm, W = 607 mm, H 274 mm. Maximum total weight: 100kg
Trailer Hitch
A strong link between AS-trailer and AS 800 and AS 910/915.
Snow Plow
For ride-ons AS 800 and AS 910/915. Feat a swivel arm, adjustable on both sides. Width: 1107 mm. Height: 348
Snow Chains
Chains for rear wheels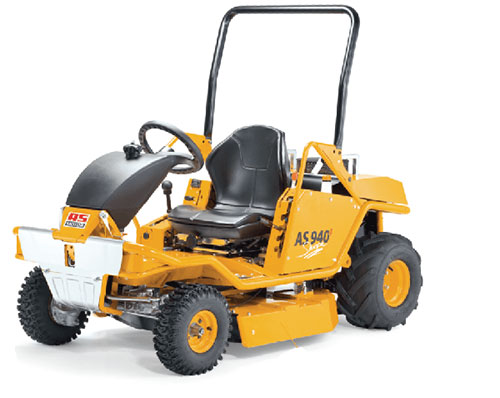 Please note that Australian specifications may vary to those shown on the manufacturer's brochure and website.
For all sales enquiries please call Dana Conroy on: 0414668954. You can also send us an email via our 'Contact Us' page.
remote control mowers, best remote control mowers, orchard mowers, tilt mowers, sports field line markers, remote linemarkers, walk behind mowers, ride on mowers, remote control mowers, tiny mobile robots, Intelligent one line markers, The TinyLineMarker Pro, The TinyLineMarker Sport, G30 Hybrid Remote control Mower, RoboFlail Vario, RoboFlail One, RoboFLail One Diesel, AS motors 1040 YAK 4WD, AS motors, AS 63 2T ES Slasher Mower, AS 65 Slasher Mower, AS 901 Flail Mower, atm sherpa rc ride on moweres, AS 63 2T ES Slasher Mower, ATM Allmäher® AS940 Sherpa, ATM Allmäher® AS920 Sherpa 2WD, ATM Allmäher® AS940 Sherpa RC, remote control mowers, Ecotech Mowers, DCS 60 Self-Propelled Brushcutter Mower, DCS 60 Wheeled Brushcutter Mower, Ecotech FV60 mulching mower, ecotech HRT 110 Swing Slope Mower, ecotech ML 60 MULTI System with Attachments Mower Slasher, ecotech ML 60 SWING MULTI System with Attachment Mower Slasher, ecotech TRT 110 Self-Propelled Mower Slasher, ecotech TRT 135 Swing Self-Propelled Mower slasher, ecotech TRT60 Self-Propelled Mower Slasher, perfect brush sweepers, Perfect model SPA brush sweepers, Perfect model SPDF double brush sweepers, Perfect model SPF brush sweepers, perfect packaging, perfect pruning choppers, Flail pruning choppers – perfect Series BG2 en BK2, perfect Universal flail pruning choppers Series BGM and BKM, perfect Series NX-460 flail chopper, perfect Heavy duty flail pruning choppers Series KG en KK, perfect rotary mowers, perfect Series DR Rotary Mowers