Universal flail pruning choppers - Series BGM and BKM
Flail choppers with double headstock
The heavy constructed flail chopper series BGM and BKM have especially been designed for use by costumers disposing of different tractors to drive. The special headstock allows for use as front and as rear mounted models without any transformation.
Thanks to the standard hydraulic offset, the low profile (height V-belt cover 51½ cm ( 20″)), and the main bearings, which are located on the inside of the frame, the cutting width can be optimally used.
Heavy duty drive
The standard configuration also includes a hydraulic offset feature and a universal gearbox with integrated overrunning clutch that accepts any rotation. Available with 540, 750 or 100 rpm.
V-belts with a spring loaded automatic belt tensioner assure an indirect flexible drive with maximum security and a minimum maintenance.
Unique bearing covers
To protect the bearings of the rear rollers, the bearings are fitted with unique covers to prevent humidity, dust and mud from entering.
Special "Perfect" flails
The 2,2 kg (5 lbs) heavy-duty "Perfect" flails are especially designed for pulverizing prunings. They are fitted to the electronically balanced vibration-free flail rotor with heavy bolts and replaceable steel bushings and provide an excellent pulverization. No further work is necessary to collect or remove the cut material.
Optional flails of 0,8 kg (13/4 lbs) are available for grass cutting and light chopping work (vineyard prunings, leaves etc.).
Rake tines (series BKM)
For a better pick-up and pulverization of thin prunings or prunings that are laying flat, our flail choppers Series BKM are delivered with rake tines which are adjustable in height.
MODELS
BGM/BKM-150 Cutting width 150 cm (4'11") Min. 40 HP
BGM/BKM-180 Cutting width 180 cm (5'11") Min. 45 HP
BGM/BKM-210 Cutting width 210 cm (6'11") Min. 52 pk
STANDARD VERSION
Universal headstock for front- and rear linkage; cat. I + II
PTO speed 540, 750 or 1000 rpm
Universal gearbox for any gearbox PTO rotation with integrated free run
Walterscheid PTO shaft
Drive through 3 V-belts.partly with automatic spring loaded tensioner
Low construction; max. height over the entire width 51½ cm (20″)
Flail rotor bearings mounted in the inside to limit the overall width
Hydraulic offset feature 48 cm (19″)
Rear roller with conical ends and special covers over the bearings
2,2 kg (5 lbs) special flails or 0,8 kg (1¾ lbs) grass flails (option)
Flails mounted to the twofold electronically balanced vibration-free flail rotor with heavy 20 mm bolts and replaceable steel bushes
Rear rake tines (model BKM)

OPTIONS
0,8 kg (1¾ lbs) flails instead of 2,2 kg (5 lbs) flails
Wearing plates
Plates for improved leaf chopping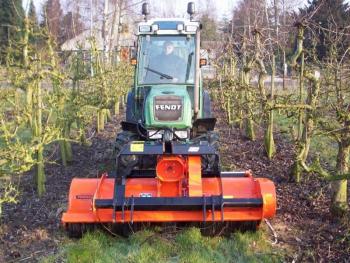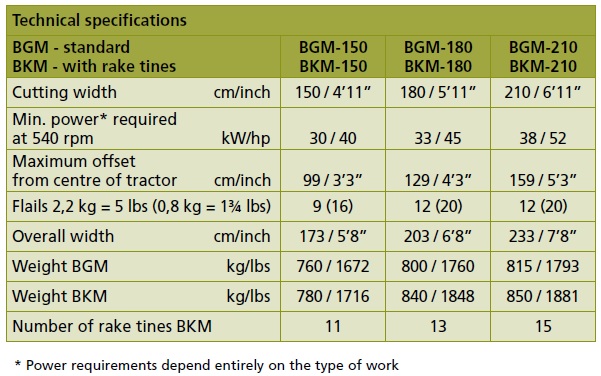 Please note that Australian specifications may vary to those shown on the manufacturer's brochure and website.
For all sales enquiries please call Dana Conroy on: 0414668954. You can also send us an email via our 'Contact Us' page.
remote control mowers, best remote control mowers, orchard mowers, tilt mowers, sports field line markers, remote linemarkers, walk behind mowers, ride on mowers, remote control mowers, tiny mobile robots, Intelligent one line markers, The TinyLineMarker Pro, The TinyLineMarker Sport, G30 Hybrid Remote control Mower, RoboFlail Vario, RoboFlail One, RoboFLail One Diesel, AS motors 1040 YAK 4WD, AS motors, AS 63 2T ES Slasher Mower, AS 65 Slasher Mower, AS 901 Flail Mower, atm sherpa rc ride on moweres, AS 63 2T ES Slasher Mower, ATM Allmäher® AS940 Sherpa, ATM Allmäher® AS920 Sherpa 2WD, ATM Allmäher® AS940 Sherpa RC, remote control mowers, Ecotech Mowers, DCS 60 Self-Propelled Brushcutter Mower, DCS 60 Wheeled Brushcutter Mower, Ecotech FV60 mulching mower, ecotech HRT 110 Swing Slope Mower, ecotech ML 60 MULTI System with Attachments Mower Slasher, ecotech ML 60 SWING MULTI System with Attachment Mower Slasher, ecotech TRT 110 Self-Propelled Mower Slasher, ecotech TRT 135 Swing Self-Propelled Mower slasher, ecotech TRT60 Self-Propelled Mower Slasher, perfect brush sweepers, Perfect model SPA brush sweepers, Perfect model SPDF double brush sweepers, Perfect model SPF brush sweepers, perfect packaging, perfect pruning choppers, Flail pruning choppers – perfect Series BG2 en BK2, perfect Universal flail pruning choppers Series BGM and BKM, perfect Series NX-460 flail chopper, perfect Heavy duty flail pruning choppers Series KG en KK, perfect rotary mowers, perfect Series DR Rotary Mowers