Flail pruning chopper with variable cutting width - NX-460
Flail chopper for fruit growers with different or large row spacings
Perfect variable width flail chopper NX-460 consists of a reinforced trailed frame section which holds two flail choppers with a working width of 240 cm (7'11") each.
By means of hydraulic cylinders the overlap between the two flail choppers can be varied, resulting in an easy and exact adjustment of the cutting width, for example in orchards with different row spacings. The total working width is adjustable from 290 cm (9'7″) to 460 cm (15'1″).
For transport the total width is limited to 300 cm (9'10")
Exellent ground contour adaptation
To achieve an excellent ground contour adaptation the flail choppers are attached to the frame by means of a flexible construction.
A full width rear roller with conical ends and skids at both sides provides excellent stability and easy handling of both units. To protect the bearings of the rear rollers, they bearings are fitted with unique covers to prevent humidity, dust and mud from entering.
Special "Perfect" flails
The 2,2 kg (5 lbs) heavy-duty "Perfect" flails are especially designed for pulverizing prunings. They are fitted to the electronically balanced vibration-free flail rotor with heavy bolts and replaceable steel bushings and provide an excellent pulverization. No further work is necessary to collect or remove the cut material.
Optional flails of 0,8 kg (13/4 lbs) are available for grass cutting and light chopping work (vineyard prunings, leaves etc.).
MODELS
Model NX-460 Cutting width 290 – 460 cm (9'7 " – 15'1 ") Min. 105 HP
STANDARD VERSION
PTO speed 540 opm
2 Walterscheid PTO shafts, 1 with large angle
Trailed special frame for attachment to the tractor 3-point linkage with two wheels ø = 515 mm B = 250 mm
2 hydraulic cylinders for stepless cutting width adjustment
Drive of each chopper through 3 V-belts
2,2 kg (5 lbs) special flails, mounted to the flail rotor with heavy 20 mm bolts and replaceable bushes
Grass discharge over the rear roller
Rear rollers with special covers over the bearings
Tractor hydraulics required: 2 x DA, 1 x SA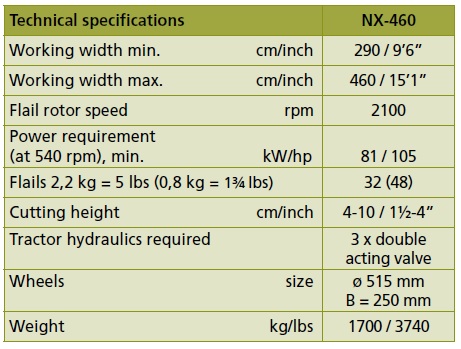 Please note that Australian specifications may vary to those shown on the manufacturer's brochure and website.
For all sales enquiries please call Dana Conroy on: 0414668954. You can also send us an email via our 'Contact Us' page.
remote control mowers, best remote control mowers, orchard mowers, tilt mowers, sports field line markers, remote linemarkers, walk behind mowers, ride on mowers, remote control mowers, tiny mobile robots, Intelligent one line markers, The TinyLineMarker Pro, The TinyLineMarker Sport, G30 Hybrid Remote control Mower, RoboFlail Vario, RoboFlail One, RoboFLail One Diesel, AS motors 1040 YAK 4WD, AS motors, AS 63 2T ES Slasher Mower, AS 65 Slasher Mower, AS 901 Flail Mower, atm sherpa rc ride on moweres, AS 63 2T ES Slasher Mower, ATM Allmäher® AS940 Sherpa, ATM Allmäher® AS920 Sherpa 2WD, ATM Allmäher® AS940 Sherpa RC, remote control mowers, Ecotech Mowers, DCS 60 Self-Propelled Brushcutter Mower, DCS 60 Wheeled Brushcutter Mower, Ecotech FV60 mulching mower, ecotech HRT 110 Swing Slope Mower, ecotech ML 60 MULTI System with Attachments Mower Slasher, ecotech ML 60 SWING MULTI System with Attachment Mower Slasher, ecotech TRT 110 Self-Propelled Mower Slasher, ecotech TRT 135 Swing Self-Propelled Mower slasher, ecotech TRT60 Self-Propelled Mower Slasher, perfect brush sweepers, Perfect model SPA brush sweepers, Perfect model SPDF double brush sweepers, Perfect model SPF brush sweepers, perfect packaging, perfect pruning choppers, Flail pruning choppers – perfect Series BG2 en BK2, perfect Universal flail pruning choppers Series BGM and BKM, perfect Series NX-460 flail chopper, perfect Heavy duty flail pruning choppers Series KG en KK, perfect rotary mowers, perfect Series DR Rotary Mowers