Flail pruning choppers - Series BG2 en BK2
Perfect manufactures flail pruning choppers with working widths from 105 to 460 cm (3'5″ to 15'1″). Besides various series flail pruning choppers for use in the 3-point hitch behind the tractor, all models are also available for use in the front linkage of the tractor. For fruit growers and vineyards with different types of tractors, we also supply some models with a special headstock that fits both the tractor front- and rear linkage without any transformation.
In the construction of our Perfect flail pruning choppers quality comes first. Fruit growers and vineyards on all continents work for years without significant interference and prove the Perfect flail pruning choppers to be among the best in their class.
Low and compact flail pruning choppers
These very low and compact flail pruning choppers are designed to chop grass and prunings, in among others, orchards and vineyards up to 8 cm (31/4 ") diameter.
Optimized cutting width
The main characteristics of the BG2/BK2 flail prunings choppers result in optimum utilization of the cutting width:
– standard manual parallelogram-type offset system
– flail rotor bearings inside the frame
– low profile (height of the V-belt cover is only 51 cm (20"))
Heavy duty drive
A gearbox with spiral toothed gears and v-belts with a springloaded automatic belt tensioner assure an indirect flexible drive with maximum security and a minimum maintenance.
Unique bearing covers
To protect the bearings of the rear rollers, the bearings are fitted with unique covers to prevent humidity, dust and mud from entering.
Special "Perfect" flails
The 2,2 kg (5 lbs) heavy-duty "Perfect" flails are especially designed for pulverizing prunings. They are fitted to the electronically balanced vibration-free flail rotor with heavy bolts and replaceable steel bushings and provide an excellent pulverization. No further work is necessary to collect or remove the cut material.
Optional flails of 0,8 kg (13/4 lbs) are available for grass cutting and light chopping work (vineyard prunings, leaves etc.).
Rake tines (series BK2)
For a better pick-up and pulverization of thin prunings or prunings that are laying flat, our flail choppers Series BK2 are delivered with rake tines which are adjustable in height.
MODELS
BG2/BK2-135 Cutting width 135 cm (4'5″) Min. 37 HP
BG2/BK2-150 Cutting width 150 cm (4'11") Min. 40 HP
BG2/BK2-180 Cutting width 180 cm (5'11") Min. 45 HP
BG2/BK2-210 Cutting width 210 cm (6'11") Min. 52 HP
STANDARD VERSION
Tractor 3-pt. linkage cat. I + II
PTO speed 540 rpm
Walterscheid PTO shaft
Drive through 3 V-belts with automatic spring loaded tensioner
Low construction; max. height over the entire width 51½ cm (20″)
Flail rotor bearings mounted in the inside to limit the overall width
Mechanically parallelogram-type offset system
Rear roller with conical ends and special covers over the bearings
2,2 kg (5 lbs) special flails or 0,8 kg (1¾ lbs) grass flails (option)
Flails mounted to the twofold electronically balanced vibration-free flail rotor with heavy 20 mm bolts and replaceable steel bushes
Rear rake tines (model BK2)
OPTIONS
PTO shaft with overrunning clutch
0,8 kg (1¾ lbs) flails instead of 2,2 kg (5 lbs) flails
Ram for hydraulic offset adjustment
Front mounted models
Wearing plates
Plates for improved leaf chopping
2 pneumatic rear wheels 6.00 x 9 instead of the rear roller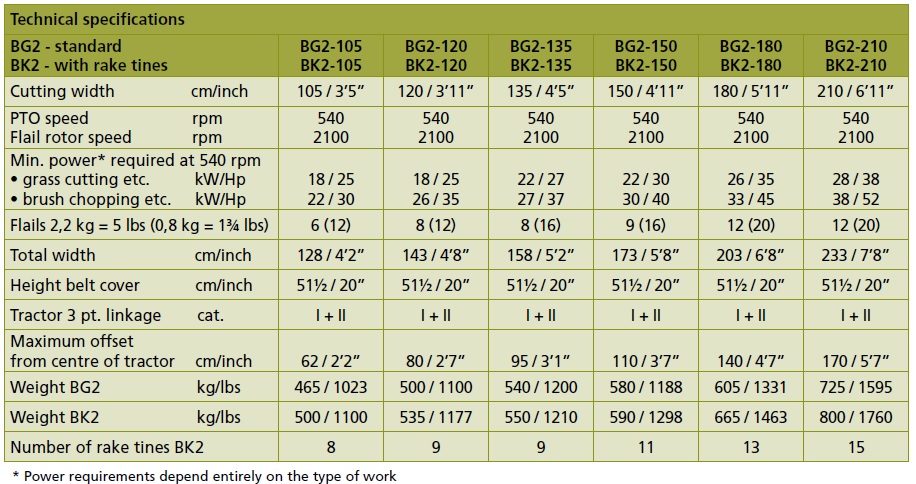 Please note that Australian specifications may vary to those shown on the manufacturer's brochure and website.
For all sales enquiries please call Dana Conroy on: 0414668954. You can also send us an email via our 'Contact Us' page.