Double front mounted brush sweeper - Model SPDF
Double brush sweeper for prunings and leafs
The Perfect model SPD double brush sweepers can be mounted to the front of a tractor for use in orchards or vineyards..
Wear-resistant brushes
They are driven by a hydraulic motor and are equipped with elastic and highly resistant sweeper brushes which spin at approximately 150 rpm. These are specially designed for a good pickup, even of flattened wood, without damaging the tree. Upon request, rubber flaps are available instead of the standard plastic brushes.
Simple adjustment
The sweeper heads positions are adjustable both in working angle and in working height, which assures a high quality working result in all conditions. For perfect terrain adjustment the sweeper heads are supported by a swivel wheel.
MODELS
Front mounted brush sweeper model SPDF
Brush diameter 2 x 100 cm (3'3″)
STANDARD VERSION
2 x 5 brushes
2 support wheels
Carriage beam for mounting to the front of a tractor
2 hydraulic rams to adjust the working width
2 hydraulic lifting rams
8 hoses (450 cm) with ½ " quick disconnect-coupling plugs
Adjustable working angle
Oil flow 30 l/min. ± 120 bar
Tractor hydraulics required: 4 x DA or 3 x DA + 1 x SA + 1 x free flow return (½")
OPTIONS
10 supports for diameter 130 cm (4'3″)
3-pt. headstock for tractor front linkage
Vineyard brushes (diameter 58 cm /1'11")
Rubber flaps instead of brushes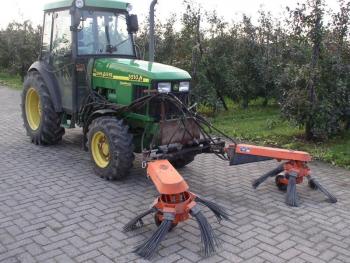 Please note that Australian specifications may vary to those shown on the manufacturer's brochure and website.
For all sales enquiries please call Dana Conroy on: 0414668954. You can also send us an email via our 'Contact Us' page.
remote control mowers, best remote control mowers, orchard mowers, tilt mowers, sports field line markers, remote linemarkers, walk behind mowers, ride on mowers, remote control mowers, tiny mobile robots, Intelligent one line markers, The TinyLineMarker Pro, The TinyLineMarker Sport, G30 Hybrid Remote control Mower, RoboFlail Vario, RoboFlail One, RoboFLail One Diesel, AS motors 1040 YAK 4WD, AS motors, AS 63 2T ES Slasher Mower, AS 65 Slasher Mower, AS 901 Flail Mower, atm sherpa rc ride on moweres, AS 63 2T ES Slasher Mower, ATM Allmäher® AS940 Sherpa, ATM Allmäher® AS920 Sherpa 2WD, ATM Allmäher® AS940 Sherpa RC, remote control mowers, Ecotech Mowers, DCS 60 Self-Propelled Brushcutter Mower, DCS 60 Wheeled Brushcutter Mower, Ecotech FV60 mulching mower, ecotech HRT 110 Swing Slope Mower, ecotech ML 60 MULTI System with Attachments Mower Slasher, ecotech ML 60 SWING MULTI System with Attachment Mower Slasher, ecotech TRT 110 Self-Propelled Mower Slasher, ecotech TRT 135 Swing Self-Propelled Mower slasher, ecotech TRT60 Self-Propelled Mower Slasher, perfect brush sweepers, Perfect model SPA brush sweepers, Perfect model SPDF double brush sweepers, Perfect model SPF brush sweepers, perfect packaging, perfect pruning choppers, Flail pruning choppers – perfect Series BG2 en BK2, perfect Universal flail pruning choppers Series BGM and BKM, perfect Series NX-460 flail chopper, perfect Heavy duty flail pruning choppers Series KG en KK, perfect rotary mowers, perfect Series DR Rotary Mowers