Brush sweeper attachment - Model SPA
Brush sweeper for prunings and leafs
The Perfect model SPA brush sweepers can be attached to a flail pruning chopper for use in orchards or vineyards.
Wear-resistant brushes
They are driven by a hydraulic motor and are equipped with elastic and highly resistant sweeper brushes which spin at approximately 150 rpm. These are specially designed for a good pickup, even of flattened wood, without damaging the tree. Upon request rubber flaps are available instead of the standard plastic brushes.
Simple adjustable
The sweeper head position is adjustable both in working angle and in working height, which assures a high quality working result in all conditions. For perfect terrain adjustment the sweeper head is supported by a swivel wheel.
MODELS
Brush sweeper attachment model SPA
Brush diameter 100 cm (3'3″)
STANDARD VERSION
5 brushes
Support wheel
Mounting plate for a flail chopper
2 hoses (450 cm) with ½ " quick disconnect-coupling plugs
Adjustable working angle
Oil flow 30 l/min. ± 70 bar
Tractor hydraulics required: 1 x DA or SA + 1x free flow return (½")
OPTIONS
Hydraulic lift ram cpl. with support
5 supports for diameter 130 cm
Vineyard brushes (diameter 58 cm /1'11")
Rubber flaps instead of brushes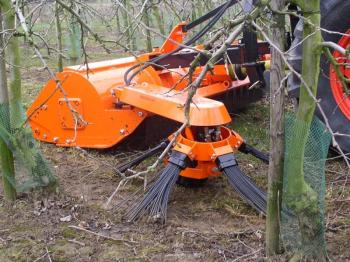 Please note that Australian specifications may vary to those shown on the manufacturer's brochure and website.
For all sales enquiries please call Dana Conroy on: 0414668954. You can also send us an email via our 'Contact Us' page.