G30 Hybrid Remote control Mower
17 HP Kohler Engine, Electric 4 wheel drive
G30 mowing robot adheres to the concept of green, environmental protection and energy saving, hybrid power, remote control operation and four-wheel drive as the platform of the lawn mower, respectively facing the family courtyard, public green space, orchard cultivation and airports. In the field of household lawn mowers and commercial lawn mowers such as river and embankment vegetation maintenance, the lawn mower can be operated remotely to reduce the labor intensity of workers and the damage caused by noise and vibration, which solves the time and effort of manual mowing and sun exposure. In the competition with the artificial team, they have defeated 8 manual workers. They can adapt to various complex geographical environments such as forests and slopes. They can perform about 3-5 acres per hour. The mowing operation can remove up to 40 acres of orchard weeds and grass in a day, without bending down and effort, as long as you move your fingers, and it can cut thick and fine grass height  adjustable from remote control.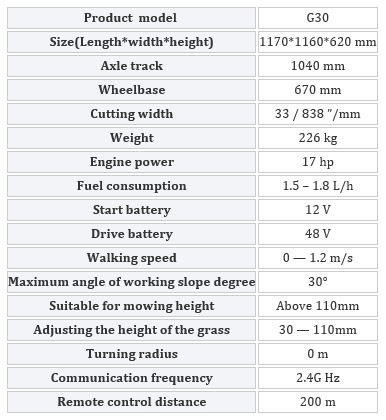 Please note that Australian specifications may vary to those shown on the manufacturer's brochure and website.
For all sales enquiries please call Dana Conroy on: 0414668954. You can also send us an email via our 'Contact Us' page.
remote control mowers, best remote control mowers, orchard mowers, tilt mowers, sports field line markers, remote linemarkers, walk behind mowers, ride on mowers, remote control mowers, tiny mobile robots, Intelligent one line markers, The TinyLineMarker Pro, The TinyLineMarker Sport, G30 Hybrid Remote control Mower, RoboFlail Vario, RoboFlail One, RoboFLail One Diesel, AS motors 1040 YAK 4WD, AS motors, AS 63 2T ES Slasher Mower, AS 65 Slasher Mower, AS 901 Flail Mower, atm sherpa rc ride on moweres, AS 63 2T ES Slasher Mower, ATM Allmäher® AS940 Sherpa, ATM Allmäher® AS920 Sherpa 2WD, ATM Allmäher® AS940 Sherpa RC, remote control mowers, Ecotech Mowers, DCS 60 Self-Propelled Brushcutter Mower, DCS 60 Wheeled Brushcutter Mower, Ecotech FV60 mulching mower, ecotech HRT 110 Swing Slope Mower, ecotech ML 60 MULTI System with Attachments Mower Slasher, ecotech ML 60 SWING MULTI System with Attachment Mower Slasher, ecotech TRT 110 Self-Propelled Mower Slasher, ecotech TRT 135 Swing Self-Propelled Mower slasher, ecotech TRT60 Self-Propelled Mower Slasher, perfect brush sweepers, Perfect model SPA brush sweepers, Perfect model SPDF double brush sweepers, Perfect model SPF brush sweepers, perfect packaging, perfect pruning choppers, Flail pruning choppers – perfect Series BG2 en BK2, perfect Universal flail pruning choppers Series BGM and BKM, perfect Series NX-460 flail chopper, perfect Heavy duty flail pruning choppers Series KG en KK, perfect rotary mowers, perfect Series DR Rotary Mowers